Remanufactured Cartridges — an Earth Friendly Choice
A printout with sharp colors and high definition using good quality paper certainly looks good. Hard copies are also necessary when soft copies won't do the job. But have you given a thought to the waste created by printing? It isn't just the paper you use, the ink cartridges used for printing end up in landfills when they are exhausted. The ink tank, the silicon circuit and the flexible bit that controls distribution of ink — all of this ends up in landfills.
Why remanufactured cartridges are good for our Earth
Experts estimate that it takes between 450 and 1000 years for empty ink cartridges to break down and decompose fully. Then when you buy a new, OEM (original equipment manufacturer) cartridge, you buy something that has been manufactured at the cost of 2 to 5 pints of oil (an ink cartridge takes 2 pints of oil to manufacture while a toner cartridge takes 5).
What is the solution to this high environmental cost? Remanufactured cartridges are the solution- an Earth-friendly choice that has far fewer environmental implications.
What are remanufactured toner and ink cartridges?
Remanufactured cartridges are made by recycling and using previously discarded OEM cartridges. These exhausted original cartridges are refilled with ink to create a practically new cartridge which will give great results at a fraction of the cost — cost to the environment as well as your pocket!
Look at all the benefits of remanufactured toner and ink cartridges:
Imagine a world without landfills! While this is a pipe-dream, you can do your part to reduce contributing to landfills by choosing remanufactured cartridges and refusing to add to the pollution of our Earth.
When you buy remanufactured toner or ink cartridges, you conserve resources such as rubber, plastic, steel and aluminum.
Remanufactured cartridges are as much of a benefit to your pocket as they are to the earth. They can cost as much as 80% less than genuine or OEM cartridges. It's a win-win for the environment and for you.
Many manufactures have a recycling program where you can drop off used or exhausted toner and ink cartridges for recycling. Read the instructions on the package or the company website to find out more about recycling drop off points. Many office supply stores also accept used cartridges for recycling. Help in the process of recycling so that used cartridges can be transformed into the kind of Earth-friendly remanufactured cartridges you can buy at TomatoInk.com.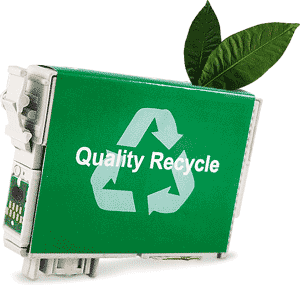 Numbers You Should Know
Each cartridge becomes 3.5 pounds of solid waste.
80% of cartridges (over 350 million cartridges each year) are thrown away instead of recycled.
It takes 450-1000 years for a cartridge to decompose in landfills.