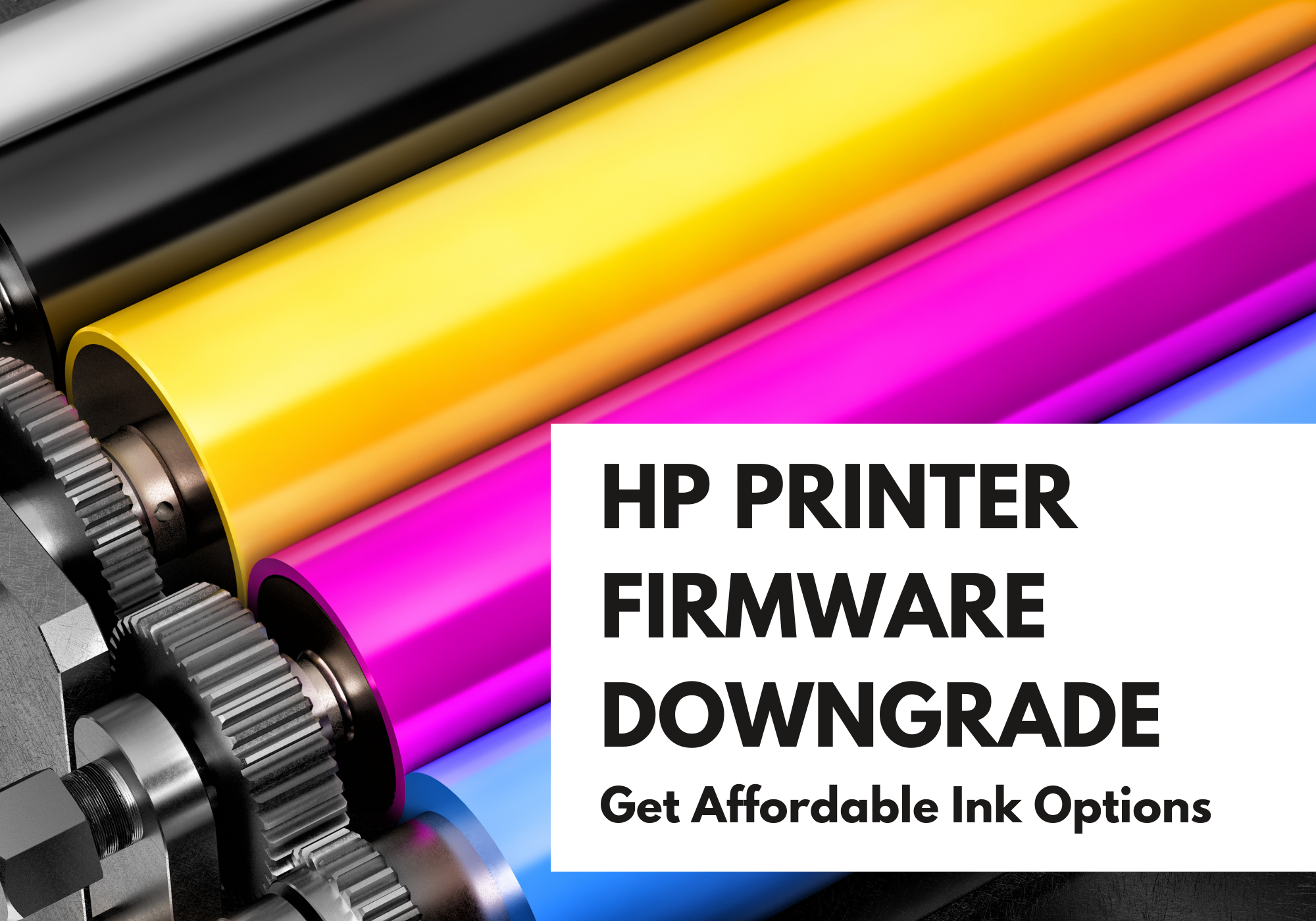 Printers are a must-have in today's digital world. But did you know that some manufacturers are limiting the use of third-party ink? This means you're stuck paying high prices for branded cartridges. Don't worry, though. There's a solution!
In this article, we will show you how to downgrade HP printer firmware. Doing so lets you take control of your ink choices and save big without sacrificing quality. Discover the freedom to choose affordable alternatives and say goodbye to expensive cartridges.
In this guide, we will discuss the following:
---
What is an HP Printer Firmware?
HP printer firmware is a unique software built into HP printers to ensure everything works well and your prints come out nicely. To better understand HP printer firmware, let's explore its main aspects:
Core Functionality: HP printer firmware is like the boss of the printer. It's always in the printer's memory; you can't add or remove it like regular computer programs. It's what makes the printer do its job.
Hardware Control: Think of HP printer firmware as your printer's manager. Its main job is to ensure all the parts inside your printer work smoothly. It tells the print head where to go, makes sure paper moves correctly, controls the ink or toner, and even communicates to other devices connected to your printer.
Performance Optimization: HP often sends updates for your printer to make it work better. These updates can speed up printing, make prints look nicer, save energy, and make your printer more dependable. The goal is to give you a better printing experience by fixing problems and making your printer run even smoother.
Bug Fixes and Stability: Like with any computer stuff, sometimes the printer's firmware has little problems, such as bugs, that can make it act up. HP sends updates to fix these issues and keep your printer running smoothly without any surprises. These updates ensure your printer works well and doesn't break unexpectedly.
Security Enhancements: Firmware updates are like security guards for your HP printer. They ensure any printer software flaws don't allow unauthorized access. HP sends these updates regularly to protect your printer from potential security problems and protect it from threats.
Feature Enhancements: Firmware updates can bring new stuff to your HP printer. It lets your printer work with wireless devices, connect to the cloud, or make it easier. These updates help your printer keep up with the latest technology trends.
---
Why Do You Need to Downgrade HP Printer Firmware?
When you own a printer, the company that made it often sends software updates. These updates can improve your printer and fix problems, but they can also stop you from using cheaper ink from other companies. Essentially, they want to ensure you continue purchasing and using their ink brand.
If your printer's software gets updated, it might not let you use other ink anymore. You'd be stuck using the expensive ink from the printer's brand. But there's a way to change it back to the old HP firmware downgrade software. This allows you to use third-party ink cartridges, giving you more flexibility and saving you money on ink costs.
---
HP Printer Firmware Downgrade Download: What To Check First
To begin, please ensure your printer is listed below, and if it is, click on the download link for the old firmware version.
If your printer model is not included in the list, it indicates that no downloadable old firmware version is available for it yet. Rest assured, we'll keep this article updated should an old firmware version become accessible for your printer.
| Printer Model | Old Firmware Version Download Link |
| --- | --- |
| For HP OfficeJet Pro 6950, 6954, 6960, 6962, 6968, 6970, 6975, and 6978 All-in-One Printers. | Download HP 90x Series Firmware Link |
| For HP OfficeJet Pro 8210, 8216, 8218, 8710, 8715, 8718, 8720, 8725, 8728, 8730, 8740, 8745, 7720, 7730, and 7740 All-in-One Printers. | Download HP 95x Series Firmware Link |
| For HP Pagewide 352dw, MFP 677dw, MFP 677dn, Pro 452dw, Pro 452dn, Pro MFP 477dw, Pro MFP 477dn, Pro 552dw, Pro MFP 577dw, Pro MFP 577Z, Managed P55250dw, and Managed MFP P57750dw Printers. | Download HP 97x Series Firmware Link |
---
How to Downgrade HP Printer Firmware: Step-by-Step Guide
Step 1: Download the old firmware version corresponding to your printer model from the table above.
Step 2: Launch the firmware downgrade software you've downloaded. Allow the software a moment to detect your printer automatically.
Step 3: Once your printer is detected, its name will appear in the title bar of the software window. Locate the printer you intend to downgrade, then click the 'Update' button to initiate the process.

Note: Ensure that both your printer and computer remain powered on and uninterrupted throughout this stage.

Step 4: When the downgrade process is complete, a notification will confirm the successful update. Click 'OK' to close the notification.
Step 5: After confirming that your firmware has been successfully downgraded to the older version, click 'Exit' to finalize the process and close the software window.
Well done! You've completed the HP printer firmware downgrade download, which means it's now compatible with third-party HP ink cartridges, such as remanufactured ink. This opens up more options for choosing ink, potentially saving you money while enjoying the same printing quality and performance. Be sure to keep track of your printer's performance to ensure it continues to meet your needs.
---
Steps to Back Up Your HP Printer Data
Back up your HP printer data is essential when downgrading firmware. This means protecting your printer's settings, configurations, and essential information. It ensures you can recover your printer's previous state if anything goes wrong during the downgrade or if you want to return to the old firmware version.
Before you begin an HP printer firmware downgrade download, back up your printer data. Here are the easy steps you can follow:
Step 1: Access the Printer's Control Panel
Access your HP printer's control panel. Navigate through the menu options to find the settings related to data backup.
Step 2: Locate the Backup or Export Option
Depending on your printer model, you may find an option for data backup or export. This option is usually located within the printer's settings menu.
Step 3: Select What to Back Up
Choose the data elements you want to back up. This might include settings, network configurations, user profiles, and usage logs. Ensure you select all the relevant data that you want to preserve.
Step 4: Choose a Backup Destination
Your HP printer will typically provide options for backup destinations. You can save the backup data to a USB drive, an external storage device, or a network location. Select the one that suits your needs.
Step 5: Initiate the Backup Process
Confirm your selections and initiate the backup process. This process may take a few minutes, depending on the amount of data.
Step 6: Verify the Backup
After the backup, verify that the data has been saved to the chosen destination. You can access the backup location and check the files or settings.
Note: Whether your HP printer has the "Backing Up Your HP Printer Data" feature depends on its specific model. While many newer HP printers include data backup options in their settings, it's not a guaranteed feature for all models. To check if this option is available for your printer, refer to the user manual or visit the official HP website for model-specific details and guidance.
---
Conclusion
Knowing how to downgrade HP printer firmware becomes a practical solution in a world where printer manufacturers aim to limit ink choices. Our step-by-step guide simplifies the process, allowing even those less tech-savvy to regain control over printing costs without compromising quality.
If you're tired of overpriced ink cartridges and want to take charge of your printing expenses, consider downgrading your HP printer firmware today.
Key takeaways:
Printer manufacturers release software updates to improve performance but may restrict the use of third-party ink.
HP printer firmware downgrade download allows users to regain control over ink choices and save money.
Firmware downgrade availability depends on the printer model and can be checked on the official HP website.
The step-by-step process for downgrading HP printer firmware involves gathering supplies, finding and installing the previous version, and verifying the downgrade's success.
Please contact our friendly team if you require assistance with ink orders or have inquiries. You can reach us toll-free at 1-833-777-0127. Our dedicated support staff can assist you from Monday to Friday between 6am-4pm PT. We are committed to ensuring a seamless and delightful printing experience for you!
---
Frequently Asked Questions
Index
Have Questions?
Live Chat
Chat with Us
Operator Hours:
7 days a week, 1-833-777-0127
Email Us
Contact Us
Messages are answered in 1-2 business days