HP 901XL / CC654AN High Yield Black & HP 901 / CC656AN Color (2-pack) Replacement Ink Cartridges (1x Black, 1x Color)
MSRP: $69.98
Save $36.08 (52% off MSRP)
Buy 3 or more: $32.88 per pack | $16.44 per cartridge
Buy More for Lower Price
Buy 3 to 5

$32.88

per pack
$16.44 per cartridge
Buy 5 to 7

$32.20

per pack
$16.10 per cartridge
Buy 7+

$31.53

per pack
$15.76 per cartridge
Buy 100+
Get Quotes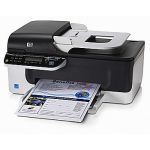 Get cheap printer ink for your OfficeJet J4524 printer at ComboInk! Our remanufactured HP 901XL ink cartridges combo pack for your OfficeJet J4524 printer will cost you a fraction of what you pay for original HP cartridges.

All ComboInk ink cartridges are as efficient and reliable as ones from an original equipment manufacturer (OEM). Our state-of-the-art manufacturing facility reengineers the printer cartridges after one cycle of service. We also inspect our compatible and remanufactured inkjet cartridges to be free of leaks and print head nozzle clogging prior to stocking. Using our remanufactured HP printer ink 901, you'll get superior results from your OfficeJet J4524 printer. Plus you can shop with confidence knowing that ComboInk ink cartridges are backed with a one-year 100% satisfaction guarantee. Bundle up and save with a 2 pack of HP 901XL replacement ink cartridges: 1 unit of Black, 1 unit of Color. TomatoInk always delivers high quality replacement HP 901XL ink cartridges for the best affordable price online. Thanks to our first-class manufacturing facility and conveniently located warehouse that eliminates the middle man, we ship out your premium HP 901XL combo pack of 2 ink cartridges for an economical price. So save up to 80% with us now on your 2 pack of HP 901XL ink cartridges today and get free shipping on orders over $50 anytime, anywhere. Our promise to you for high-grade replacement HP ink cartridges also comes with a 1-year 100% satisfaction guarantee.
All ink & toner come with 1-year 100% satisfaction guarantee.
Our products will never void your printer's warranty.
Product Specifications
SKU
ZINK-HP-901XL-COMBO2
Product Type
INK
Replace OEM #
CC654AN, CC656AN
Colors
Black, Tri-color
Ink Type

Black

: Pigment |

Tri-color

: Dye
Product Capacity

Black

: High |

Tri-color

: Standard
Approximate Page Yields

Black

: 700 |

Tri-color

: 360
Cost per page
3.2 cents
Number of pieces
2
Product Shelf Life
18-24 months